Scratch-resistant EBC lacquer
A white door that stays white? At Theuma, we lacquer doors using our unique EBC lacquering process (Electron Beam Curing). Electron beams harden the lacquer and create a network of complete connections, making the surface as smooth as a mirror. So oxygen doesn't get a chance to break down the polymer chains. The result? A Theuma EBC lacquer door retains its colour and does not yellow.
Any more advantages? Our superhard EBC lacquer doors are extremely gentle on the environment: the EBC lacquering process uses only 20% of the energy required for the traditional UV lacquering process and no CO2 or ozone is released during the production process. And as our unique EBC lacquer coating is 100% cured, once it has been applied no toxic substances (VOCs) are released. It's not surprising that at Theuma, we switched to this green technology years ago.
Theuma's scratch-resistant EBC lacquered doors come in glossy and matt white. We provide matching steel frames painted with our protective Electrostatic Powder Coating (EPC) technique.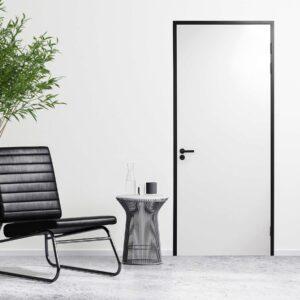 Scratch-resistant EBC lacquer door & MonoPlus frame
Bags, suitcases, beds and other furniture.  In student residences, schools, hotels and care homes, doors have to endure a lot. High Pressure Laminate (HPL) finish makes doors extremely scratch- and impact-resistant and suitable for intensive use.
Choose your colour. Choose visible or overlaid stiles or abrasion and colour resistant, chlorine free and fully coloured bumpers. No problem if you bump into them. Our HPL doors can take it.
discover our designer doors